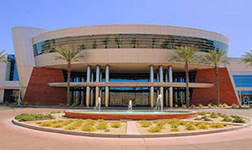 PHOENIX, AZ - IO, a worldwide leader in software-defined data center technology, services, and solutions, announced a partnership with Carter Validus Mission Critical REIT, Inc. (CVMC REIT) through which CVMC REIT acquired 100% interest in the real estate containing the IO Phoenix and IO Scottsdale data centers. CVMC REIT immediately leased the data centers back to IO in a sale-leaseback transaction. The combined transaction was valued at $125 million.
The financial transaction will have no impact on operations in the two data centers, where IO will continue to support customers on a "business as usual" basis. IO also leases its properties in New Jersey and Singapore.
This partnership provides both parties an opportunity to focus on their core competencies. IO will continue to deliver colocation and cloud services across its global data center footprint while CVMC REIT will own the real estate.
"This transaction is aligned with IO's long-term strategic plan," said Anthony Wanger, president of IO. "Partnering with Carter Validus allows IO to concentrate its focus on what we do best: Operating world-class IO data centers for our customers."
"We are excited about adding IO to our roster of strong data center tenants in our portfolio and look forward to our continued relationship with them," said Michael Seton, president and chief investment officer, Carter Validus Advisors, LLC. "The quality of these two assets will be a great addition to our growing portfolio of high quality mission critical assets."
Carter Validus Mission Critical REIT, Inc., is a real estate investment trust that invests in mission critical real estate assets located throughout the United States. Mission critical real estate assets are purpose-built facilities designed to support the most essential operations of tenants. Carter Validus Mission Critical REIT, Inc. focuses its acquisitions of mission critical assets in the data center and healthcare sectors. It has done three sale-leaseback deals with AT&T, and also has acquired buildings housing data centers operated by Internap, Peak 10, Atos and Equinix.
IO is a global leader in software-defined data centers and has pioneered the next generation of data center infrastructure technology. IO's integrated hardware and software data center technology platform offers enterprises, governments, and service providers an innovative way to deploy, provision, and optimize data center capacity anywhere in the world. IO technology lowers the total cost of data center ownership compared to traditional data centers, enabling dynamic deployment and intelligent control based on the needs of IT equipment and applications in the data center.