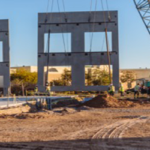 Building Under Construction Reaches 65 Percent Leased Before Completion
PHOENIX, Arizona — Irgens – Phoenix has announced three signed tenants totaling more than 27,000- square-feet for its Spectrum Medical Commons, a medical campus near Val Vista Drive and the 202 Santan Freeway.  The building, which is currently under construction, is scheduled for completion in Fall 2017.
The Spectrum Medical Commons property is located immediately adjacent to Dignity Health Mercy Gilbert Medical Center.  Warner Park Surgery Center (operated by United Surgical Partners, International) has leased 15,334-square-feet in the building. Dignity Health has leased 5,992-square-feet and Advanced Surgical Associates, Ltd. has leased 5,979-square-feet.
The two-story, multi-tenant building at 3367 S. Mercy Rd. will contain approximately 44,000- square-feet of space and is now nearly 65 percent leased.  The building will feature tenant amenities such as common conference facilities, a common break room and shaded outdoor seating.
Irgens hosted a "beam signing" event this week to celebrate the construction progress and tenant lease commitments.
"Construction is moving at a great pace and we have just hit a significant milestone with tilted up walls on this exciting project," says Jason Anzalone, vice president of development with Irgens. "We are excited to have so much of the building committed to tenants before completion and are eager to see patients being served at Spectrum in September of this year."
The building has been designed by Devenney Architects.  Leasing is being handled by Mike Dupuy and Rachael Thompson of Kidder Mathews.  Fletcher Perry of Kidder Mathews represented Advanced Surgical Associates in its lease.  John Asher with AT Real Estate Services represented Warner Park Surgery Center.
For more information, Anzalone should be contacted at 602-682-0192 .