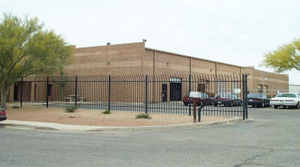 TUCSON Arizona — Gladstone Commercial Corporation (Nasdaq: GOOD) ("Gladstone Commercial") acquired the property at 3382 East Global Loop in Tucson for $6,142,565 ($92 PSF) as part of a 509,211-square-foot, six building industrial portfolio with locations in San Antonio, TX; Albuquerque, NM; New Orleans, LA; Baton Rouge, LA; and Tucson, AZ.
The portfolio, acquired in a sale/leaseback transaction, is 100% leased to Iron Mountain Information Management, a global leader in the records storage industry with a 10-year lease term. The acquisition of the industrial properties is consistent with Gladstone Commercial's growth strategy of acquiring high-quality assets in growth regions with credit-worthy tenants. The warehouses serve as regional hubs for the tenant within its core North American business segment, and each location generates a significant recurring revenue stream. The tenant plans to continue operating in these facilities for years to come.
"The acquisition of the facilities continues our strategic expansion into markets with increasing industrial demand. The investment is a great addition to our portfolio, improving the weighted average lease term and increasing the allocation of high-quality industrial properties" said Brandon Flickinger, Managing Director for Gladstone Commercial.
Bob Cutlip, President of Gladstone Commercial, agreed, "This transaction promotes our strategy of increasing our allocation to industrial buildings over the next few years and we are excited to add to the portfolio's weighted average lease term with high quality real estate occupied by a credit-worthy tenant."
Gladstone Commercial is a real estate investment trust focused on acquiring, owning and operating net leased industrial and office properties across the United States. As of September 30, 2019, Gladstone Commercial's real estate portfolio consisted of 109 properties located in 24 states, totaling approximately 13.1 million-square-feet. For additional information please visit www.gladstonecommercial.com.