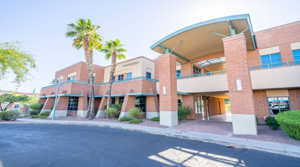 TUCSON, ARIZONA -- Vast Commercial Real Estate Solutions (Vast), a commercial real estate and investment brokerage firm, brokered the sale of an office building at 1630 East River Road, Tucson, AZ 85718. Located in Mesquite Corporate Center, a highly visible, multi-tenant office park with frontage along River Road, the 10,500-square-foot space sold for $2 million ($190.48 PSF) on February 28, 2022.
Mesquite Corporate Center is situated just west of Campbell Avenue, within walking distance of the restaurants and professional services at Joesler Village and St. Philip's Plaza.
Jon O'Shea of Vast represented the Seller, 220Properties, LLC of Tucson, AZ. The Buyer, IXL Learning, Inc., was represented by Dave Volk of VOLK Company, a commercial real estate brokerage specializing in retail properties in Tucson and Southern Arizona.
The buyer plans to use it for expansion of their Tucson offices.
IXL Learning was founded in 1998 when it released Quia Web, the first website that allowed teachers and learners to create and share customized study materials. The initial version featured three formats: a matching game, a concentration game, and flash cards. Soon after, quizzes were added, along with a dozen more game types. The concept was an overnight success, and Quia Web quickly became one of the most popular education sites in the early days of the internet.
Its mission, since then, has been to develop educational technologies that people can't live without—if only they existed. Its second product, Quia Books, is a highly interactive online textbook and workbook platform created specifically for language learning. Released in 2001, at a time when e-books weren't much more than PDF readers, Quia Books supported immersive, online workbook exercises with real-time feedback and an intelligent grading system. These books are used in language courses ranging from Spanish and French to Chinese, Latin, and Arabic.
IXL is now used by more than 13 million students and more than 800,000 teachers, as well as at home by families worldwide, with offices in California; North Carolina; Toronto, Canada and Tucson.
For more information, O'Shea can be reached at 520.580.4743 and Volk is at 520.495.2238.
To learn more, see RED Comp #9690.