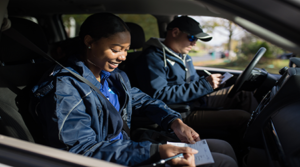 Leading national remodeling company to create approximately 200 new jobs for Valley
TEMPE, Arizona – On behalf of Philadelphia-based Power Home Remodeling (Power) the Phoenix office of JLL has completed a full building acquisition that marks Power's official entry into the Phoenix market. The location will generate approximately 200 new local jobs from the leading remodeling company, recognized as one of Fortune's 100 Best Companies to Work For in 2019.
JLL Executive Vice President Keith Lammersen and Managing Director Brad Crosley represented Power Home Remodeling in the building acquisition. Bob Kling of Lee & Associates represented the building seller, Rankin LLC.
"Arizona is the perfect location for Power to continue to grow and expand into the western parts of the United States," said Power Home Remodeling Co-Founder Adam Kaliner. "Where we go next is ultimately up to our employees, as they drive our expansion strategy. They are thrilled to be able to relocate to this new city, build relationships with the community and introduce Power to homeowners."
The new Power location totals 35,665-square-feet at 8240 S. Hardy Dr. in Tempe, Arizona, near Elliot and Priest roads and within the Warner Crossing business complex. The company is expected to move into its new space in the first quarter of 2020, establishing its 17th U.S. sales and support territory.
"Power Home Remodeling is making a notable, long-term investment in Arizona," said Lammersen. "They've picked a location with the configuration, parking and employment demographics to support their growth plans and to continue to thrive in our market. It was a pleasure to assist them with that process."
The new Power building is less than two miles from Interstate 10 and minutes from the Loop 101, Loop 202, US 60 Superstition Freeway and Sky Harbor International Airport. It is also surrounded by major retail and restaurant amenities, globally recognized corporate neighbors and abundant residential and multifamily housing.
For information on open positions at the Power Home Remodeling Phoenix location, visit workatpower.com.