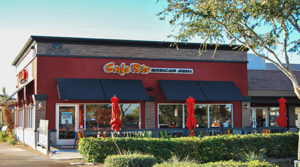 The Phoenix office of JLL has completed five new leases for Café Rio, expanding the fast casual Southwestern-style restaurant into multiple new locations across the metro Phoenix market. The new restaurants have opening dates ranging from October 2016 to summer 2017.
JLL Senior Vice President Tyson Switzenberg represented Café Rio in the lease negotiations, which include:
4095 S. Gilbert Rd. (at Ocotillo Rd.) – 2,670-square-feet, opened Oct. 20.
4747 E. Cactus Rd. (at Tatum Blvd.) – 2,501-square-feet, opened Nov. 10.
5150 S. Rural Rd. (at Baseline Rd.) – 2,785-square-feet, scheduled to open this month.
7439 W. Bell Rd. (at 75thAve.) – 2,000-square-feet, scheduled to open Summer 2017
2748 S. Signal Butte Rd. (at Guadalupe Rd.) – 2,880-square-feet, scheduled to open Summer 2017
"Phoenix ranks among the nation's hottest markets for quick serve restaurants," said Switzenberg. "Café Rio has been rapidly expanding in Phoenix due to the success of their existing stores in the marketplace – all of these are end-cap spaces within strong regional or neighborhood trade areas, and include strong traffic patterns, a strong surrounding retailer base and great visibility. These properties have helped Café Rio realize its 2016 Phoenix-area expansion plans, which it expects to continue in 2017 and beyond."
According to JLL, metro Phoenix boasts 93 quick serve restaurants per 100,000 residents, placing it fourth on the company's list of "Top 10 Best Large Markets for Quick-Service Restaurant (QSR) Expansion," with a density of QSR uses that ranks just behind Nashville, Houston and Washington D.C.
Based in Salt Lake City, Café Rio is a fast-casual Mexican restaurant with made-from-scratch recipes inspired by the traditional cooking and high quality ingredients found in the Rio Grande Region of Northern Mexico, Southern Texas and New Mexico. The company operates more than 100 U.S. locations across 10 states, including 13 locations in metro Phoenix.