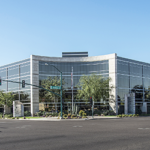 Asset boasts highest 18-year average occupancy, best parking ratio on Camelback Corridor
PHOENIX, Arizona – On behalf of TR Camelback Corp., the Phoenix office of JLL has been assigned the listing agreement for 3131 and 3133 Camelback, a two-building office property located at the southwest corner of Camelback Road and 32nd Street, on one of the most prominent corners in Phoenix's prestigious Camelback Corridor.
JLL Senior Managing Director Dennis Desmond and Managing Director Lynn LaChapelle represent TR Camelback Corp. The team launched the property for sale this week.
"The 3131 and 3133 Camelback buildings were developed in the late 1990s, but a timeless design, premier location and meticulous upkeep have kept it competitive with even the newest Camelback Corridor office options," said Desmond. "Since its delivery – and throughout numerous economic shifts – the project has significantly outperformed the market with an average 93 percent annual occupancy rate. This makes for an extremely attractive investment option as rents on the Camelback Corridor continue to rise. We expect strong investor interest."
According to JLL, the Camelback Corridor since 2014 has attracted more than $700 million in new investor activity. This is due, in part, to rapidly rising rental rates that have increased from an average $23.83 per-square-foot in 2012 to an average $30.11 per-square-foot in 2016 – a rise of 26.4 percent.
The 3131 and 3133 Camelback buildings are located at 3131 and 3133 E. Camelback Road in Phoenix, offering four stories of Class A office space at the 3131 building and three stories of office space at the 3133 building. Together, they total 295,401-square-feet that is currently 93 percent leased to tenants including HSAG, Johnson Bank and JLL.
Amenities at the property include direct frontage and signage exposure to Camelback Road, easy ingress and egress, superior views, an on-site coffee bar and the best parking ratio on the Camelback Corridor. The property has been recently updated with contemporary lobby furnishings, a Wi-Fi enabled conference and training room in the 3131 building, and a new outdoor lounge area that features food trucks every Wednesday. TR Camelback Corp. has owned the buildings since 2006. Property management for the buildings is provided by Lincoln Property Company.