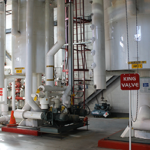 Demand from food and beverage users is outpacing available inventory
PHOENIX, AZ – Industrial experts in the Phoenix office of JLL are predicting a very hot year for Phoenix cold storage space – which is defined as industrial buildings that cater to food and beverage users. Traditionally, this category of space combines office/back office product with industrial-grade, climate controlled areas for freezer, cold storage and dry storage activity.
"There are more than a dozen food and beverage users actively looking in our market right now for cold storage space, but this is very specialized inventory that is expensive to build, and it is never developed on a speculative basis," said JLL Managing Director Anthony Lydon. "That makes it challenging for tenants in the market to find space that is just the right size, with just the right mix of amenities to meet their needs. It is a signature proposition."
Among these amenities are larger floorplates, modern 32- to 36-foot clear height ceilings and state-of-the-art cooling/freezer mechanical systems offering variable climate control for different food stuffs within different areas of the facility. Cold storage buildings also offer thicker, vented floors under the freezer area floor slab and chilled cold docks that eliminate any breaking of the "cold chain" throughout the supply chain.
"These buildings are so specialized to an occupier's needs that, once they're built, the user tends to stay in place for 15 to 30 years," said JLL Managing Director Marc Hertzberg.
According to JLL's Q1 2016 Phoenix Industrial Insight report, large users with buying power – and particularly those with specialized needs – are finding design-build options more and more attractive. For food and beverage users, a lack of available space will only further feed that trend.
For instance, Michael Lewis Company is building a 380,000-square-foot, 40-foot clear height freezer/cooler/dry warehouse in Goodyear, Arizona that will fulfill food services to airports throughout the Southwest. The building will have the most efficient cooling/freezer systems available, combined with modern roof and wall system insulation.
McLane Foods is another example of a food-grade employer who recently completed a new facility in Phoenix with a significant expansion of floor space, higher ceiling clear height and best-of-class cooling, insulation and sustainability designed into the building. "These types of uses demand extreme levels of power and energy, and therefore must have the newest in facility and mechanical design," said Hertzberg.
"Cold storage users represent almost 3 million square feet of current industrial space demand in Phoenix. Unfortunately, the Valley currently has little, if any, available modern chilled space. This will lead to more newly constructed space solutions for this sector," said Lydon. "As the Valley continues its robust demographic growth, and more and more cold storage operators seek space solutions, it will require many of them to do exactly what others have done before them: Take the build-to-suit route and organically build from the ground up."
For more information from JLL's Q1 industrial market reports, visit www.jll.com/phoenix/en-us/research.