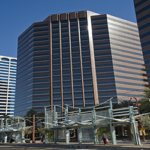 Long-term commitment moves company to Class A space at Phoenix Plaza
PHOENIX, Arizona – The Phoenix office of JLL has completed a 21,390-square-foot, long-term lease that relocates the corporate headquarters of Orcutt | Winslow (www.owp.com) into a new building on the Central Corridor, continuing the architecture, planning and interior design firm's decades-long presence in metro Phoenix's Central Business District.
The new lease moves Orcutt | Winslow from Phoenix Corporate Center, at 3003 N. Central Ave., into Phoenix Plaza, located at 2929 N. Central Ave. Phoenix Plaza sits on the northeast corner of Central Avenue and Thomas Road, in Phoenix's Midtown submarket – midway between downtown Phoenix and the Camelback Corridor.
JLL Managing Director Andrew Medley represented Orcutt | Winslow in the lease negotiations. Jerry Roberts and Patrick Boyle of CBRE represented the property owner, Phoenix Plaza PT, LLC.
"Orcutt | Winslow's new space is not only flexible – allowing the company to maximize its efficiencies over the long-term – but also filled with Class A building amenities," said Medley. "The Phoenix Plaza complex includes a gym, deli, hotel, shared conference room and light rail access. These were important factors for Orcutt | Winslow as they considered their move, and the always-important factors that help a company attract and retain today's top employee talent."
"Andrew Medley and his team at JLL did a great job of helping us find the perfect space. With this relocation, Orcutt | Winslow will be ideally situated to continue to provide our clients the service they expect and deserve," said Erik Clinite, one of the Managing Partners at Orcutt | Winslow.
"We are especially excited about designing and constructing our new space to support the way we work today, and one that will be extremely flexible. Like other leading-edge companies that depend on technology, gone are the days of large dedicated workstations and hardcopies of drawings. They have been replaced by smaller open workstations that accommodate laptops and larger computer monitors, and collaboration spaces that promote communication and creativity," said Carl Nelson, another Managing Partner at Orcutt | Winslow.
Phoenix Plaza totals 1.7 million square feet of Class A commercial space including twin 20-story office towers, a 25-story office tower, a 226-room Hilton Hotel Suites and a three-level retail pavilion offering a health club, specialty shops and dining. The property is surrounded by amenities such as Park Central Mall, Phoenix Country Club, the Heard Museum, Phoenix Art Museum, resort hotels and fine dining. Other notable tenants in the building include Banner Health, Osborne Maledon, IBM and Deloitte.
Orcutt Winslow will relocate to its new space in July.
Headquartered in Phoenix, Orcutt | Winslow specializes in the design of people-oriented architecture, planning and interior design services, with a client roster that includes Mayo Clinic, Pendergast Elementary School District, Dignity Health, Buckeye Union High School, Maricopa Integrated Health Systems, Madison Elementary School District, Queen Creek Unified School District, Banner Health, Litchfield Elementary School District, Kyrene School District, Veterans Affairs, Creighton School District and a host of other public and private education clients.