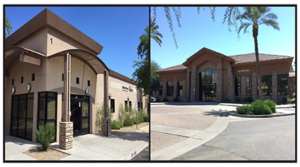 Canvas Capital purchases high-demand medical office space for $11.17M
PHOENIX, Arizona – The Phoenix office of JLL has completed the sale of two medical office buildings owned by SKI Properties. Together, the buildings total 31,425 square feet and are 100 percent leased by Southwest Kidney Institute (SKI) and a partnership between SKI and DaVita dialysis services (NYSE:DVA).
The two-building sale achieved a cumulative price of $11.17 million. JLL Executive Vice President Brian Ackerman facilitated the transaction as an off-market, sale leaseback on behalf of SKI Properties. The buyer is Canvass Capital, representing a large family office.
The buildings are located at 8410 W. Thomas Rd. in Phoenix and 2149 E. Warner Rd. in Tempe and total 21,483 and 9,942 square feet, respectively.
"Both of these buildings reflect key attributes that investors look for in medical office space," said Ackerman. "That includes strategic locations next to a major hospital and credit tenants who are likely to remain in place because of area demographics and high-end build-outs."
The Thomas Road building sits near the intersection of 83rd Avenue and is minutes from Banner Estrella Medical Center. The Warner Road building is near the Loop 101 freeway, Chandler Regional Medical Center, Banner Gateway Medical Center and Chandler Fashion Center. It also sits just south of ASU Research Park.