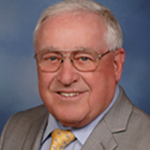 John Rafferty
1936 – 2015
The Tucson Real Estate Community mourns the loss of one of our own this week. John Rafferty, President of Stewart Title & Trust, entered into rest peacefully at his residence Monday night after a brief battle with Melanoma. Friends say John fought a courageous battle as he did in everything that he encountered in life. John came out of retirement to become President & CEO of Stewart Title & Trust of Tucson in 2005.

John was an honorably discharged Marine Corps vet who served with the same high level of energy and values as he did with everything throughout his life. He viewed his employees and friends as one big family and his support was never-ending for their efforts to take leadership roles in the community, in their own families and work-related functions.
John will hold a special place in our hearts at The Real Estate Daily News, as being the first sponsor of our publication, seeing a value in what we do when it was little more than an idea. Thank you, John.
Tucson was fortunate to have John Rafferty as a leader, philanthropist, teacher, friend and father-figure. The staff at Stewart Title & Trust will always remember him for what they call the "Rafferty Minute" when John would ask them if they had a minute, call them to his office for a talk that could last for hours. There was never a dull moment or story with John around.
John loved to sail his boat docked in Point Loma and said it was from here he got his very best ideas.
John received the Tucson Association of Realtors' Affiliate of the Year Award in 2014 in honor of his service in leadership with distinction to the industry. President of TAR, Nicole Brulé-Fisher recalls, "This was a direct result of his genuine love of the real estate industry and his partners in business. His desire and commitment to give so willingly to his colleagues and the industry was ever apparent. John always approached his colleagues with a kind word and an affectionate embrace."
But the award he was most proud of, as evidenced by the walls of his office, was his 'Father of the Year Award' received in 2012 in support of the Steele Children's Research Center at The University of Arizona and its work in combating Type 1 juvenile diabetes.
"John embraced the award with passion and a generous spirit, as well as a strong desire to effect positive change in the lives of these children. He lovingly attended every Father's Day Council event thereafter, always arriving with a warm smile and a hopeful look towards the future for the children of Steele Children's Research Center. As a Mom of a son living with Type 1 Diabetes, this immediately endeared me to John, and his commitment to finding a cure was genuine and heartfelt," Nicole said.
Yes, John was a father-figure to many in our community, something he enjoyed. Always positive, very charitable, John championed mentoring many towards their potential – his loss will be felt far and wide across our city, and reach into places outside of the real estate community. Tucson is a better place for having met John Rafferty and his legacy will endure with all who knew him.
Service for John's family and friends will be held Wednesday, May 27, 2015 at 10:30 am at:
St. Thomas the Apostle Parish
5150 N. Valley View Road
Tucson, AZ 85718