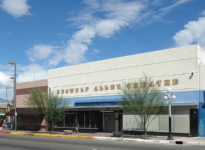 The former Beowulf Alley Theatre at 11 S Sixth Ave. in Tucson has officially been leased this week for conversion into a full-service grocery store. By December, the Downtown district will have its first grocery store in 42 years. The announcement was made months ago with a lease pending until this week.
Paul Cisek, former owner of the Rincon Market and Ron Abbott, current owner of the Rincon Market have partnered together to make this happen and reported they expect to spend $800,000 to $1 million in renovations to the 6,000-square-foot space.
The plan is to create a community hub called Gibson Court, adjacent to the new streetcar route, and part of a 19,528-square-foot redevelopment project. The site improvements of a courtyard will begin in June for September completion, and the market expected to open in December.
The property is owned by the Gibson Family who named the project in honor of the late family member, Johnny Gibson was a barber, World War II veteran and bodybuilder. He was awarded the title of "Mr. Arizona" in the early 1950s. Johnny owned and operated his barbershop on Sixth Avenue from 1949 to 2001 when her retired. "This market will give a sense of history and weave the history of downtown into the look and feel of Gibson Court," said Steve Gibson, Johnny's son.
Many places get revitalized and forget the history of the property. This market won't be one of them. A grocery store has been near the top of the city's downtown redevelopment wish list for over a decade, as a way to attract residents to the area. This project may be a new turning point, following the many recent successes Downtown Tucson is seeing.
Fletcher McCusker, Chairman of the Rio Nuevo Board said, "Another feather in downtown's cap, totally private sector initiated and executed.  The east end of downtown is really coming together, we have to focus on the western edge now, and we expect the private sector will lead development there as well."
Tom Knox of Cushman & Wakefield | Picor represented the landlord in the transaction and is marketing the remaining space for the project.
Knox can be reached at (520) 546-2701 for more information.