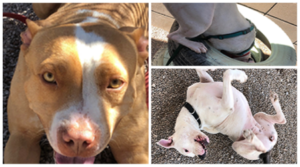 PACC shares tips to keep pets safe from summer heat
PIMA COUNTY – The triple digit temperatures will soon be here. Pima Animal Care Center encourages community members and pet owners to take extra precautions to keep their pets safe and cool during the summer months ahead.
Every year, PACC's Animal Protection Service officers respond to hundreds of calls involving pets suffering from heat-related illness and death because they were left outdoors, in a vehicle, or in another situation that put them at risk. In most cases, these situations can be avoided by following these easy tips:
· Keep pets indoors: there's no better place to avoid the heat.
· Keep them hydrated: provide clean, cool drinking water in an easily accessible, spill-proof container.
· Provide shade: Ensure your pet has all-day access to a shaded spot with good air flow. For dogs with longer coats, even shaded spots can be too hot during 100 degree plus temps.
· Protect their paws: walk your pet in the early morning or in the evening when the asphalt has cooled down and won't burn their paws. Place the back of your hand on the ground for five seconds. If it's too hot for you, it's too hot for your pet's paw pads.
· Don't leave them inside a car: even with the windows cracked, the interior temperature can become deadly within just a couple of minutes.
PACC is located at 4000 N. Silverbell Road, open Monday through Friday, noon-7 p.m. and 10 a.m. to 5 p.m. on weekends. All pets adopted will come spayed or neutered, with age-appropriate vaccinations, a microchip and a free vet visit. A $19 licensing fee will apply to dogs.