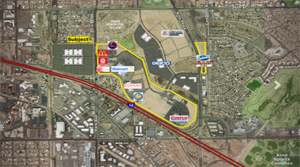 TUCSON, Arizona – STRR Investments of Houston (Rehman Ahmed (manager) has closed on a 39,120-square-foot pad at Tucson Marketplace at the Bridges. For $675,000 ($17.25 PSF). The site in located north of the northeast corner of Kino Parkway and Tucson Market Place Blvd.
KFC is joining Mister Car Wash, Discount Tire and Culver's at this section of the Tucson Marketplace along with a potential Dutch Bros next door. Tucson Marketplace is a 1 million-square-foot mixed use master planned commercial development.
The U.S. chicken chain based in Louisville, KY has been doing something in 2019 that it hasn't done in 15 years: add more locations. KFC has shrunk by 1,400 locations since 2004 but expects to change direction this year. To do this, the chicken chain is providing incentives to operators who build new units. It is also finding new places to put new restaurants, focusing more on nontraditional locations and eyeing urban, inline locations the chain has abandoned in recent years. While the chain is focused on new units, it is also working to keep closures to a minimum.
Chad Russell and Randy Titzck of Land Advisors Organization in Phoenix represented the Canadian–based seller, Fullerton Tucson Kino Parkway. Greg Saltz, Marty Olejarczyk (Marty O.) and Jesse Rozio with GPS Retail Advisors represent KFC and Dutch Bros in Arizona.
For more information, Russell and Titzck should be contacted at 480.483.8100. Saltz, Olejarczyk, and Rozio can be reached at 480.603.6892.
To learn more, see RED Comp #6774.