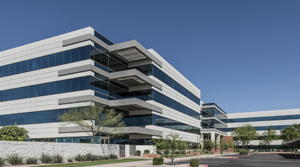 Scottsdale office building sells to Dallas-based Velocis
Phoenix, Arizona – Kierland One, a 175,441-square-foot Class A office building in Scottsdale, Arizona has a new owner.  Dallas-based Velocis purchased the building from Hines and joint venture equity partner PCCP, LLC (PCCP).
Barry Gabel, Chris Marchildon and Will Mast of CBRE in Phoenix represented the seller in the transaction.
The four-story Kierland One is 90 percent leased and features institutional-quality construction and finishes, including a remodeled two-story lobby, new tenant improvements and high-end spec suites. It has a generous parking ratio of 4.3 spaces per 1,000 RSF. The property includes the global headquarters of a publicly traded engineering and manufacturing company, as well as several other notable financial services, technology, hospitality and residential related companies.
"The quality of the asset and tenancy, as well as the walkable amenities in the Scottsdale Airpark submarket make Kierland One an attractive asset for our investment strategy," said Jim Yoder, partner, Velocis. "Phoenix continues to be one of the strongest job creation markets in the country, and we are pleased to expand our presence in the market. We look forward to building on the great work that Hines and PCCP accomplished at Kierland One by putting our own Velocis stamp on the property."
The property offers tremendous Scottsdale Road frontage and is surrounded by numerous first-class amenities, including the high-end shopping and restaurants at Kierland Commons and Scottsdale Quarter and The Promenade among others; the Fairmont Scottsdale Princess Resort, The Westin Kierland Resort & Spa, and the JW Marriot Desert Ridge; as well as countless golf courses.
"Kierland One presented an incredible opportunity for Velocis to continue its investment into the Phoenix market with the acquisition of a high-quality, well-located office asset, offering unmatched access to Scottsdale's high-end retail, restaurant and hotel amenities, and a diverse and well-educated labor pool," said CBRE's Gabel. "We're happy to have achieved exceptional outcomes for both Hines/PCCP and Velocis — all long-term valued clients of ours."
Kierland One is located in the Scottsdale Airpark submarket, the second-largest employment hub in metro Phoenix, where there are an estimated 12,000 businesses and more than 145,000 employees. The property's strategic location provides direct access to the Loop 101 freeway, allowing for access to the large and diverse labor markets of Scottsdale, Phoenix, Tempe, Chandler and Mesa.
The Scottsdale Airpark submarket consistently outperforms the overall Phoenix market in average rental rate and absorption of office space. At the end of the third quarter of 2019, the submarket's office vacancy rate dipped to 11.49 percent, falling below the overall Phoenix market vacancy rate of 14.39 percent, according to CBRE Research.
CBRE's Luke Walker, Brad Anderson and Mike Strittmatter will continue to lease the property under new ownership. Hines will continue to serve as the property manager.
Kierland One is Velocis' third investment in the Phoenix market in recent years. In 2016, Velocis purchased Park One, a three-building complex in the prestigious Camelback Corridor. In addition, Velocis owned Camelback Square, a three-story Class A office building in the heart of Old Town Scottsdale from 2015 to 2019.
Dallas-based Velocis has been active in real estate since 2010, purchasing 31 assets located in major markets within Arizona, Colorado, Texas, Georgia, Florida, North Carolina, Virginia, and the Washington D.C. Metro Area. Velocis is led by a team of five seasoned partners who are directly responsible for the acquisition, asset management and disposition of assets. Partners in Fund II are Fred Hamm, Mike Lewis, Jim Yoder, Paul Smith and David Seifert.