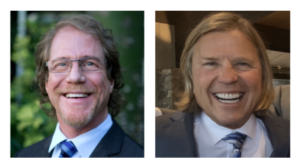 Chandler, Ariz. – Kovach Enclosure Systems, LLC of Chandler, AZ, is a newly formed company owned by Steve Kovach IV and construction industry veteran, Kelly Sands. The new company announced that on October 21, 2019, it purchased all assets and hired all employees of Kovach, LLC, a 50-year-old company providing exterior building enclosures. The purchase also includes trademarked Kovabond, one of two ICC fire-rated exterior ACM building materials in the United States.
The new company brings surety bonding and investment capital to the company's already impressive manufacturing technologies and capabilities. With roughly 400 total employees, Kovach Enclosure Systems projects $80 million of revenue in 2020. "This is the classic definition of opportunity meets preparedness," said co-owner, Kelly Sands.
Steve Kovach IV and Kelly Sands, kicked off the purchase with a culture celebration for employees and their families in Tempe, AZ. "I am thrilled to see pride that every employee feels for what we do and the smiles on their children's faces," remarked Kovach.
The company is one of the nation's largest integrated designers, manufacturers, and installers of the high-quality panel and glazing systems for commercial buildings in the higher education, healthcare, municipal, commercial, sports arena, and airport markets and is positioning to expand even further.
Chief Executive Officer, Troy Garrett, sees immense promise in the future, "Kovach has built a Super Bowl level team in terms of talent and ability, and the company is in the best position to provide superior results for our architectural and contracting partners."
Local projects include Helios Foundation Headquarters (32nd and Camelback) in Phoenix and the Watermark (southwest corner of Scottsdale Road and Highway 202) in Tempe. These projects reflect Kovach's ability to bring imaginative visions for building enclosures into reality.
Kovach Enclosure Systems has over 260,000 square feet of manufacturing facilities locally. Offices are also located in California, Texas, and Tennessee. For information, contact James Hatch at jamesh@kovach.net.