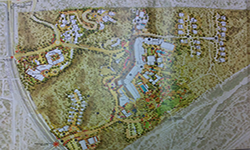 La Posada Holding Company of Green Valley has assembled 79.46 acres at Lambert Lane and 1st Avenue in Oro Valley for $5.25 million ($66,071 per acre) with the intent of constructing a 'Continuing Care Retirement Community' being called La Posada at Rooney Ranch similar to its existing La Posada at Park Center in Green Valley.
"A preliminary plan for the continuing care campus was delivered to Oro Valley Planning Department this week," we were told by Senior Planner, Matt Michels. "The plan calls for a PAD amendment for use change and includes a 5-story building and a series of clustered enclaves integrated into the project."
It was the 5-story building being proposed in Oro Valley that struck my interest, so I made a visit to the Oro Valley Planning Department to look at the plan proposal myself. The visual impact of a 5-story building on this site is greatly reduced, due to the recessed grade being below street level. As the plan elevations show, the visual impact is greatly curtailed for this reason and the plan does have a special focus on the Sonoran Desert environment.
The project in this preliminary stage would have its primary access off Lambert & First, a 10,000-square-foot Village Retail Café, a 2,500-square-foot wellness center, an Entertainment Village with theater, classrooms, an adult daycare, playground and outdoor Amphitheater. The plan is to have apartments, townhomes, and individual residences: 17 residential cottages with attached garages (avg. 1,400 SF each), a core 200-unit apartment building (avg. 1,300 SF each) with underground parking for residents and employees, a Villa with 22-units on two floors, and 5-units with attached garages called Hill Villas (avg. 1,600 SF each). Restaurants, Bar & Bistro, offices, flex rooms, beauty shop, card rooms, tech room, arts and crafts, post office and guest units are all included, as well as outdoor patios, swimming pools, cabanas, a community park with a dog park, community gardens, BBQ, and a water splash. There would also be 19 residential estate homes (avg. 2,000 SF each), a 42-unit skilled nursing care and 30-unit memory care center for all stages of adult life care.
La Posada representatives were not available to discuss the project or respond to the total building square-footage of the project, something not found in the preliminary plan.
We did discover that La Posada at Park Center in Green Valley is a 25 year old, not–for-profit model for this continuing care retirement community. La Posada is the largest senior service provider in Southern Arizona, servicing over 700 residents and utilizing a total of 477 independent living apartments, townhomes, and individual residences, 85 assisted living suites, 29 memory care and 58 skilled nursing care suites.
The continuing care campus in Green Valley was founded in 1987 as part of Tucson Medical Center's vision to bring needed programs and services to the senior residents of Green Valley located south of Tucson. In 1997, La Posada became an independent continuing care community. The 100-acre campus includes resort–style amenities, from swimming pools to hiking trails, and in 2010, La Posada added a retail component. The campus requires the skills of 540 full-time employees to maintain, manage and service the residents of the community.
La Posada at Park Center offers a variety of homes, gourmet dining, plenty of activities and more that bring a new adventure to all who seek an active, secure lifestyle.
A study conducted by students in the Eller MBA program under the direction of Prof. Price Fishback recently examined the economic impact of La Posada and stated, "Beyond the $52.9 million annual economic impact from La Posada's operations, the study looked at the quality of life impact that La Posada brings to the region. These "intangible" benefits include the personal benefits of volunteering and several cornerstones of healthy aging: socializing, having a sense of belonging and a healthy diet. The report also pointed to La Posada's community outreach programs, including Casa's Adult Day Services, which provides respite care for family caregivers, La Posada's new wellness - based Mosaic program, and Community Connect, which offers information and referral to all, as bringing higher quality of life to the region."
The Eller team calculated that each dollar directly spent locally by La Posada has the effect of $1.86 in the local economy.
A public meeting date will soon be set for Neighborhood comments, the next stage in the plan approval process.
Jim Marian, CCIM, of Chapman Lindsey Commercial Real Estate handled the portion of the assemblage owned by Rooney Ranch. La Posada and Pepper Viner, the seller of the other portion, were self-represented.
Marian can be reached at (520) 622-8864 ext. 106 for more information.