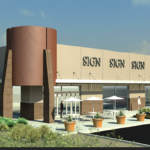 Larsen Baker of Tucson (George Larsen and Don Baker, partners) through an affiliate, Circle Plaza Sports LLC, purchased the property at 7280 E Broadway Blvd in Tucson for $500,000 ($27.81 PSF) for land value from James and Judith Murray of Tucson. The 17,980-square-foot lot currently has two buildings occupied by Play It Again Sports as a storefront with storage in the back building.
Play It Again Sports, a pioneer in the resale of used sports equipment, plans to move to 7707 E Broadway Blvd at Broadway and Pantano for June 1st. One of three Play It Again Sports' stores in town, the others are at 4750 E Speedway Blvd. and 7963 N Oracle Road in Tucson, with more stores in Tempe, Phoenix, Mesa and Goodyear.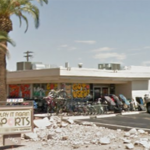 The purchase took about five years to negotiate an agreement between the parties. Both seller and buyer were self-represented in the transaction with Andy Seleznov, CCIM, and Melissa Lal, CCIM, of Larsen Baker handling the negotiations. Seleznov told us the buildings were originally a Sambo's Restaurant, built in the early 1970's and in poor condition. The plan now is to raze the buildings to make room for a new retail pad with approximately 4,700-square-feet available.
Located at Broadway and Kolb, one of the highest traffic intersections in Tucson, the property borders to the east of the neighborhood center, Circle Plaza, anchored by Michaels, Ross Dress for Less, Starbucks, Sports Authority, HomeGoods, Lane Bryant, Natural Grocers and Freddy's Steakburgers.
To learn more Seleznov and Lal should be reached at 520.296.0200. For additional information see RED Comp #2863.