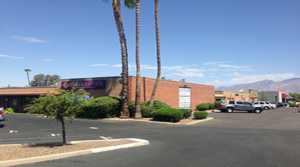 Tucson, Arizona - Larsen Baker is pleased to announce that Reading Therapy Center of Southern Arizona has leased 1,449-square-feet of office at Craycroft Plaza located at 1011 N Craycroft Rd. Suite 306. The Reading Therapy Center is a small local business that provides 1:1 tutoring to children with learning challenges, such as dyslexia, autism, intellectual disability, communication disorders, ADHD, and learning disabilities.
The Reading Therapy Center was created in 2018 to address the reading needs of children with severe challenges. Its flagship office is located in Tucson, Arizona. However, the center now provides services to students nation-wide! By request, the center has expanded its services to include written expression and math foundations.
The Reading Therapy Center is owned by Miss Tina Bauschatz, a special educator and distinguished reading specialist.
They will be opening in the beginning of 2022. For more information on the Reading Therapy Center go to their website at https://readingtherapycenter.org/ .
Isaac Figueroa represented the Landlord, Larsen Baker, in the transaction.
To learn more, Figueroa should be reached at 520.296.0200 ext 218