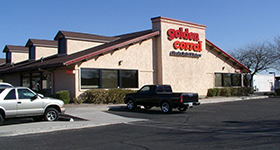 The building at 715 E Wetmore Road in Tucson, built for Golden Corral and later redeveloped as a China Buffet Restaurant was sold to Larsen Baker, LLC (George Larsen and Don Baker, principals) for $1.04 million ($96 PSF).
Larsen Baker developed the property at this corner and sold it to Golden Corral in 1995 while continuing to own the adjoining pads occupied by Jack-in-the Box at 4450 N 1st Avenue, Los Betos Mexican Food Restaurant at 4470 N 1st Avenue, and Prestige Fitness at 4490 N 1st Avenue in Tucson.
The 10,500-square-foot building is on 2.07 acres of land located across the street from a Walmart, Office Max, and Best Buy anchored shopping center that also includes Payless Shoes, Anna's Linens, Applebees, Aaron's Rents, near the Tucson Mall area with tenants nearby such as Petco, Dillard's, Macy's, Sears, Nordstrom Rack, Home Depot, Stein Mart, Target and more.
The buyer purchased with plans to remodel the exterior of the building and possibly redevelop it into multi-tenant.
Kit Donley of Donley Commercial Real Estate represented the seller, Golden Southwest Financial Group, in the transaction. The buyer was represented by Andy Seleznov and Melissa Lal of Larsen Baker.
To learn more Donley should be reached at 520.907.0955 while Seleznov and Lal can be contacted at 520.296.0200.
Login for additional information and see RED Comp #2690.
[mepr-show rules="58038"]Sale Date: 2/19/2015. Down Payment was $300,000 with new loans from financial institution. APN: 108-19-019H. This transaction closed in 60-days with seller wanting a quick close. Property was deed restricted and buyer had final approval on property use per the CC&R of property.[/mepr-show]