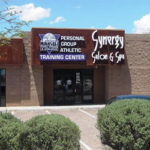 TUCSON, Arizona — Larsen Baker of Tucson (George Larsen, principal) purchased a 6,894-square-foot retail building located at 7285 E. Tanque Verde Rd. in Tucson, from The Price Group, LLC for $1.194 million ($173 PSF).
The property was formerly a personal training / fitness center, most recently doing business as Marcel's Total Fitness, that relocated to 7770 E Wrightstown Road. The building was vacant at time of closing and perfect for Larsen Baker's tenant in tow, Texas-based Neighbors Health System which was ready to lease it for an emergency care center.
Founded in 2008 by a group of emergency room physicians wanting to make lives better for patients by providing them with a more personalized ER experience, NEIGHBORS EMERGENCY CENTER has completely re-imagined emergency care.
Neighbors Emergency Center, an industry leader in freestanding emergency medical care, specializes in personalized ER attention with little wait time and no crowded waiting areas. Neighbors offers an on-site laboratory and imaging services of X-Ray, CT Scans and Ultrasounds. Local board-certified doctors and medical teams with emergency room experience treat all adult and pediatric emergencies.
Besides personalized ER care with short wait times, Neighbors will also bring approximately 30 jobs to the area economy by hiring local board-certified physicians and medical teams with emergency room experience to treat all adult and pediatric emergencies.
Neighbors currently has 29 centers open, with plans for growth extending into 2017 with more centers opening throughout Arizona, Texas and other states. This will be Neighbors first center in Arizona.
"We also know that during these critical times, it is imperative to make the experience as comforting and stress-free as possible," said Dr. Setul G. Patel, CEO of Neighbors. "This is why we focus on providing compassionate, genuine, respectful, and thoughtful personalized care. Ensuring patient and family satisfaction is a key passion of ours and we make it a priority to not only meet, but exceed patient expectations."
All companies under the Neighbors Health umbrella are committed to the universal goal of making lives better.
Rob Tomlinson, Retail Specialist with Cushman & Wakefield | PICOR, represented the seller. George Larsen, Andy Seleznov and Melissa Lal with Larsen Baker, LLC, represented the buyer in the transaction.
For more information, Tomlinson can be reached 520.546.2757 and Larsen, Seleznov and Lal can be contacted at 520.296.0200.
To learn more, see RED Comp #4337.