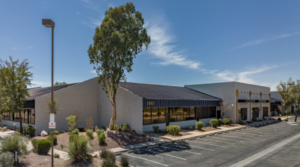 Tucson, AZ, November 7, 2022 - Larsen Baker is pleased to announce that Dreamstyle Remodeling, LLC has leased the remaining 14,902 square feet of vacancy at Valencia Tech Park, 3000 E Valencia Rd, Suite 190, bringing to 90,000-square-foot project to 100% stabilization. At the southwestcorner of Valencia and Country Club in the Tucson Airport submarket, the project was acquired, renovated, and rebranded by Larsen Baker over the past year.
Isaac Figueroa represented the landlord, Valencia Tech Park, LLC, an affiliate of Larsen Baker, Tim Healy with CBRE represented the tenant.
To learn more, Figueroa can be reached at 520.296.0200 ext. 218 and Healy is at 520.323.5100.