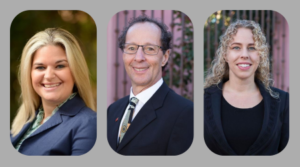 TUCSON, Arizona -- Larsen Baker LLC, one of Tucson's largest commercial real estate management, development and brokerage firms, is announcing three employees have been named as executive officers and co-owners of the company.
Melissa Lal, CCIM, has been named President of Larsen Baker and co-managing partner. She brings twelve years of real estate and development experience to the position, most recently as Larsen Baker's Director of Real Estate.
Andy Seleznov, CCIM, has been named Executive Vice President and partner. He brings sixteen years of real estate and development experience to the position, most recently as Larsen Baker's Director of Leasing and Operations.
Jennifer Raimondi has been named Vice President/Treasurer and partner. As a fifteen-year employee, she most recently served as the Office Manager and Director of Administration.
"I am excited to let the new generation of leaders guide Larsen Baker and manage our property portfolio," said co-founder George Larsen.  "Under Melissa's leadership, this new executive team has the potential to take Larsen Baker to the next level, expanding in ways that my co-founder Don Baker and I never imagined, when we started the company twenty-five years ago."
Larsen is an Illinois-boy who went to ASU on a GI Bill, after graduating he landed his first job with Rodney Glassman's father's land sales company that brought him to Tucson in 1970. The story as he tells it, is he and Don Baker met in 1993 as "two broke real estate developers left over from the Recession" and decided it would be better if they could starve together at least.
The rest is real estate history that legends are made from in Tucson. Larsen Baker went on to become the largest privately held retail property owner in Southern Arizona, re-developing, remodeling, now owning and managing over 2.5-million-square-feet of Tucson / Southern Arizona commercial properties. The company is a leader in the preservation and re-positioning of many of Tucson's most prominent shopping centers and office complexes, such as Crossroads Festival at Swan and Grant, Circle Plaza at Kolb and Broadway, and Tucson Place Super Center at First and Wetmore.
George Larsen will continue to be active in the company as co-founder and acting mentor to the new executive team. Something Larsen is well experienced at is mentoring.  In 1986, Larsen started the Southern Arizona CCIM Chapter where he has mentored many, if not all the CCIM members on the finer points of CCIM commercial real estate practices.
Larsen believes that 'when you spread your knowledge, it comes back to you expanded'. He says, "Rather than keeping secrets to yourself in a closed circuit, expanded knowledge is like a bigger dessert, with more for everyone to share." Something he says he learned from his own personal mentors, his parents, growing up.
Larsen says he was pleased to see Melissa, Andy and Jennifer wanting the company to continue after Don's sudden passing two years ago. Larsen says he will continue to invest and advise the crew, and plans to stay involved, just off stage.
"I have always liked working....didn't matter if it was as a laborer or as an executive," Larsen pointed out. "I guess its from my upbringing. So, I can't really retire. I have got too much work to do, annoying Melissa and the crew. I will be very good at that!"
For more information, Lal, Seleznov and Raimondi should be reached at 520.296.0200; for additional information on the company visit www.larsenbaker.com.