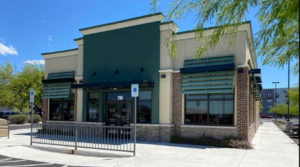 Tucson, AZ. – Larsen Baker through its affiliate First Avenue Associates, LLC sold the 3,750 square-foot freestanding restaurant building with drive thru located at 735 E Wetmore Rd north of the Starbucks on the NEC of Wetmore Rd and 1st Ave. The building on a  30,000 square-foot lot was sold to STRR Investments, LLC of Houston who will convert the building to a KFC.
The building was sold for $2,300,000 ($613/SF) and closed on August 26, 2022.
The U.S. chicken chain based in Louisville, KY has been doing something that it hasn't done in 15 years: adding more locations. KFC had shrunk by 1,400 locations since 2004 but expects to change direction this year. To do this, the chicken chain is providing incentives to operators who build new units. It is also finding new places to put new restaurants, focusing more on nontraditional locations and eyeing urban, inline locations the chain has abandoned in recent years. While the chain is focused on new units, it is also working to keep closures to a minimum.
Isaac Figueroa with Larsen Baker represented the seller, Greg Saltz with GPS Commercial Advisors represented the buyer.
For more information, Figueroa should be reached at 520-296-0200 ext 218 and Saltz can be contacted at 480.603.6892.
To learn more, see RED Comp #10150.