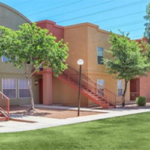 TUCSON, Arizona — Las Villas De Kino Apartments I & II, a 348-unit apartment community at 5515 S Forgeus Avenue in Tucson, AZ. The property is conveniently located close to I-10 and I-19, local schools, attractions, and entertainment and sold recently for $21 million ($60,345 per unit).
The buyer is a Chicago investor, LCA LVDK, LP, and the seller, Las Villas de Kino, LP of Tucson.
Las Villas De Kino was built and placed into service in 1998 & 1999, with 29 buildings totaling 267,375-square-feet on 17.95-acres, under the Section 42 Low-Income Housing Tax Credit (LIHTC) program and sold with an existing regulatory agreement in place which requires 322 units to be rented to income qualifying residents. The remaining units are to be rented at market rate. It was fully occupied when it sold.
The property offers one-, two-, and three-bedroom apartment homes featuring open floor plans with a full appliance package and private patio/balcony. The community amenities include a clubhouse, on-site laundry facilities, basketball court, picnic area with BBQ, swimming pool, fitness center, playground, business center, and courtesy patrol.
The Tucson region slated to lose 220 affordable housing units by 2018 and an additional 204 units by 2020 made the property even more appealing to the buyer.
The Low-Income Housing Tax Credit (LIHTC) program is currently the country's most extensive affordable housing program. The program was added to Section 42 of the Internal Revenue Code in 1986 in order to provide private owners with an incentive to create and maintain affordable housing.
Investors buy income tax credits in qualified properties that have received state allocation, creating cash equity for owners that reduces project development debt burden. In exchange, the owner agrees to rent a specific number of units to qualified tenants at specified rents, usually below-market.
Jeff Irish with LIHTC Advisors of Boise, ID which specializes in Low-Income Housing Tax Credit investments represented the seller in cooperation with Hamid Panahi, Cliff David and Steve Gebing with Marcus & Millichap in Phoenix
For more information, Panahi, David and Gebing should be reached at 602.687.6700 and Irish can be contacted at 800.840.3021 ext. 2.
To learn more see RED Comp #5019 and check RED Listing Registry often for similar properties available.