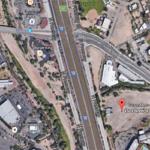 The last privately owned industrial parcel of land in Tucson CBD (Tucson's central business district) sold recently to AMERCO Real Estate Company for $1.65 million ($9.75 PSF). The 3.88 acres at 450-460 N Freeway is zoned I-1 and located along the eastside of Interstate 10 on the northbound frontage road near St. Mary's and I-10 intersection, adjacent to the Tucson Metropolitan Chamber of Commerce and Hotel Tucson City Center.
The buyer, Phoenix-based AMERCO, is the parent company of U-Haul and purchased the land for a new prototype mini-storage site.
The seller, First Family Company, Ltd. of Tucson (Joe Millstone, manager). Millstone told us the property had some challenges and had been on the market for 25 years. Challenges such as several land swaps with the City to square it off, and negotiating with both City and State for a direct I-10 frontage road access were needed for the site. With these completed, the property sold shovel-ready to the new owner to bring only site plan approval for construction.
The property also being in the Central Business District and Government Property Lease Excise Tax District— or GPLET — is entitled to this incentive program, created by the city in 2012, that waives property taxes for eight years if the developer increases the property's value by at least 100 percent.
U Haul announced at the start of the year, it's interest in booming college towns and traditional big-city markets. U-Haul is the authority on migration trends thanks to its expansive network that blankets all 50 states and 10 Canadian provinces. The geographical coverage from more than 20,000 U-Haul neighborhood dealers and U-Haul-owned and -operated stores offers a comprehensive overview of where people are moving like no one else in the industry.
While U-Haul migration trends don't correlate directly to population or economic growth, the data is a strong gauge of how well states are attracting and keeping residents. With the recent residential growth, and projections that don't seem to be slowing down anytime soon in downtown Tucson, a U Haul mini storage facility should fit in well.
Joe Millstone with MIDCO in Tucson negotiated the transaction for the sellers and AMERCO was self-represented.
For more information, Millstone can be reached at 520.906.8008.
To learn more, see RED Comp #3752.