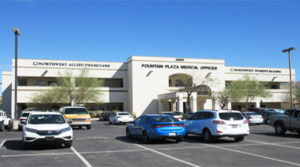 TUCSON, ARIZONA – A Northwest Medical Campus medical building at 6060 N Fountain Plaza Drive in Tucson sold for $11.4 million ($214 PSF) on ground lease to an affiliate of Altera Fund Advisors of Dallas, Texas.
Altera is a diversified commercial real estate firm focused primarily on investing in medical and healthcare-related real estate assets as an advisor, sponsor, and general partner. Altera and its affiliates have acquired approximately $450 million of real estate assets across predecessor partnerships and vehicles.
This was the sole acquisition in Tucson for Altera while also acquiring six assets in Phoenix.
Built in 2020, the 52,064-square-foot, class-A two-story building, was 83% occupied at time of sale with such tenants as Allied Physicians, Women's Imaging, Rincon Pain and Northwest Hospital, the major tenant in building.
The seller, Cotlow Development II, LLC of Tucson was self-represented by Dean Cotlow of the Cotlow Company. The investor was represented by David Montijo with CBRE Tucson.
For more information, Cotlow can be reached at 520.881.8180 and Montjo can be contacted at 520.323.5135.
To learn more, see RED Comp #9232.