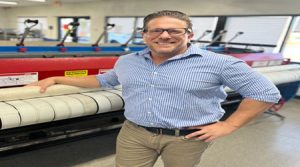 PHOENIX, ARIZ. (November 1, 2023) – Legacy Linen opened in June dedicated to delivering exceptional laundry services to businesses across various industries. The leading customer-owned goods (COG) commercial laundry firm is proud to announce it has hired industry veteran Joe Rossiello as its General Manager.
Owned and operated by Phoenix-based Susank Capital (Principals Dave Susank and Nick Rawlins), Legacy Linen operates a state-of-the-art facility at 1857 W. Southern Ave., in, Phoenix. Legacy Linen offers commercial laundry services and totals 25 skilled employees.
"Success in this industry hinges on the ability to listen. Listen to your customers to understand their needs and preferences," said Rossiello, a native of Brooklyn, New York.   "Listen to your employees to foster a collaborative and productive work environment. Listen to the market to stay informed about industry trends. Effective listening can lead to better decision-making, enhanced customer satisfaction, and a more adaptive and successful business."
Rossiello has served as a production manager in Sacramento, California; El Paso, Texas; and Phoenix. He comes to Legacy Linen after eight years as operations manager of a national commercial firm overseeing eight linen plants producing more than 400 million pounds of linen a year.
In his role as Legacy Linen GM, Rossiello said he plans to develop and implement strategies to achieve the facility's goals, such as increasing efficiency, improving quality, and expanding the customer base.
"A general manager's role is to ensure the smooth operation of the facility, including receiving, processing, and delivering linen products to customers," Rossiello said. "This involves managing production schedules, quality control, and inventory management. It also includes maintaining high-quality standards for linen products and services."
Rossiello said he is proud of his experience in customer relations.
"I have learned to always build and maintain strong relationships with clients by addressing their inquiries, concerns, and complaints. Identify opportunities to meet customer needs and expectations," Rossiello said.
Legacy Linen is also dedicated to overseeing the maintenance and repair of its equipment, machinery, and the facility itself. Legacy Linen implements safety protocols and practices to create a safe work environment. It also implements environmentally friendly practices and sustainability initiatives including water and energy conservation, waste reduction, and responsible chemical use.
"When adding a partner to an organization it is important that they share the same values and devotion to customer service that we have at Legacy Linen," Susank said. "Joe has proven exactly that, and I am thrilled and excited to grow this business with him."
The Valley's hospitality and tourism industries have already proven to be a boon to Legacy Linen.
"We're excited that we have service contracts with several high-profile hotels in the Valley including a premier property whose grand opening is scheduled for later this year," Rawlins said.
For more information about Legacy Linen visit legacylinen.co.