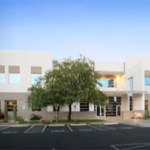 TUCSON, ARIZONA — California investor, Legacy Property Management, LLC traded into a property at 155 North Rosemont Blvd. in Tucson for $10.25 million ($207 PSF).
The approximate 50,000-square-feet Class A, two-story building was built in 1998 to AOL's, state-of-the-art specifications as a call center and renovated in 2015. Located north of the northwest corner of Broadway & Rosemont Blvds, the building was 100% occupied at time of sale by two tenants: OpenText, a global leader in Enterprise Information Management (EIM) and Concentra Emergency and Urgent Care Center
The site features abundant parking with 7.5 parking spaces per 1,000 SF on 5.28 acres.
Andrew Fosberg and Dylan Brown of CBRE in Phoenix represented the seller, WCCP Rosemont and PVP Investments of Torrance, Calif. in the transaction and Richard Schwartz of Colliers International in Ontario, Calif. represented the investor.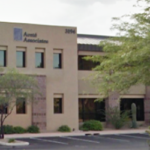 The transaction was an upleg in a 1031 exchange for Legacy Property Management that sold the multi-tenant building in Village Offices at 3194 & 3196 N Swan Road in Tucson for $8 million ($194 PSF) to Arete Associates about a week earlier.
Arete was a tenant prior to buying the 41,263-square-foot building, build in 2006, and will continue to occupy it.
Schwartz told us that Legacy Property Management is a family owned investment group, with properties in Arizona, California, Colorado and Texas. "They like the Phoenix and Tucson market because of the dynamic growth and continue to be attracted to investment properties such as these," said Schwartz.
Legacy purchased the Swan building sold to Arete in 2013 and had no representation in the transaction.
For more information, Fosberg can be reached at 602.735.1723 and Brown should be contacted at 602.735.1714. To reach Schwartz call 909.937.6307.
To learn more, see RED Comp #5178 and #5202.