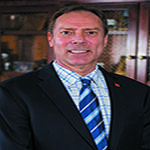 Tucson, AZ — The Southern Arizona Chapter of CCIM Institute – Craig Finfrock, CCIM was elected to serve as First RVP for CCIM Institute's Region 2 for 2020 on April 20, 2019. The election was held by the Region 2's Chapter Presidents. Region 2 includes California, Arizona, Nevada, and Hawaii and is the CCIM Institute's largest Region.
Craig Finfrock is the immediate past President of the Southern Arizona Chapter of CCIM Institute and has served on this Chapter's Board since 2015. Currently, Mr. Finfrock serves on the CCIM Institute's Designation Committee and Chapter Activities Subcommittee.
CCIM Institute is a global community of 13,000 members, more than 50 chapters, and 30 countries that educates and connects the world's leading experts in commercial real estate investment strategy, financial analysis, and market analysis.
Learn more about CCIM Institute's education and designation program at ccim.com.