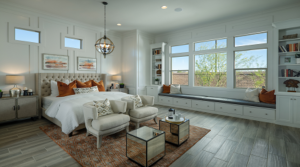 Award recognizes homebuilders that promote safe, healthy and comfortable indoor environments
SCOTTSDALE, Ariz. – Maracay, a wholly owned company of the TRI Pointe Group (NYSE: TPH), has been recognized by the U.S. Environmental Protection Agency (EPA) as a recipient of the 2019 Indoor airPLUS Leader Award.
The annual award recognizes market-leading homebuilders and raters that promote safer, healthier, and more comfortable indoor environments by participating in the EPA's home labeling program, utilizing the Indoor airPLUS brand in their marketing efforts, and educating the general public about the enhanced indoor air quality protections they offer to new home buyers.
"This honor is a testament to Maracay's commitment to healthy and sustainable living," Maracay President Andy Warren said. "We began building all Energy Star® certified homes over a decade ago and continue to embrace the highest standards in green building through programs such as Indoor airPLUS to ensure Arizona families have a sustainable, healthful and energy-efficient new home to make memories of a lifetime in."
Indoor airPLUS was created on the foundation of the EPA's ENERGY STAR Certified Homes Program and encourages builders and raters to go further with construction practices to help minimize exposure to airborne pollutants and contaminants. Homes that earn this label offer superior comfort, durability, indoor air quality and peace of mind for their home buyers.
"Every year our program looks forward to learning more about the great work our Indoor airPLUS partners do on a daily basis. We are especially impressed by the work of the ten Leader Award Winners this past year," said David Rowson, director of EPA's Indoor Environments Division. "The 2019 Leader Award Winners continue to deliver comprehensive indoor air quality protections with Indoor airPLUS-labeled homes around the country, while utilizing the Indoor airPLUS brand to educate the public. On behalf of the EPA, I extend our congratulations to these deserving organizations and thank them for their continued effort in constructing a healthier America."
For more information on Maracay and its commitment to Indoor airPLUS qualified homes, visit www.maracayhomes.com. To learn more about the 2019 Indoor airPLUS Leader Awards or the Indoor airPLUS Program, visit https://www.epa.gov/indoorairplus