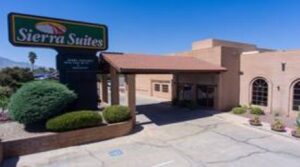 SIERRA VISTA, Ariz – Marcus & Millichap (NYSE: MMI), a leading commercial real estate brokerage firm specializing in investment sales, financing, research and advisory services, announced today the sale of Sierra Suites, a three-building, two-story, 100-room, hospitality property located in Sierra Vista, Arizona, according to Ryan Nee, First Vice President / District Manager of the firm's Miami office.
The asset sold for $3.6 million ($36,000 per room).
Ahmed Kabani and Luis Garino, investment specialists in Marcus & Millichap's Miami office, had the exclusive listing to market the property on behalf of the seller, a limited liability company.  The buyer, a limited liability company, was also secured and represented by Ahmed Kabani. Ryan Sarbinoff, Marcus & Millichap's broker of record in Arizona assisted in closing the transaction.
"The Buyer is an owner-operator with intentions of operating the hotel until retirement. The architectural design resembles a 'Spanish Courtyard' and that was a main factor in the Buyer's decision," said Ahmed Kabani, Senior Vice President Investments.
The property sits on 2.74 acres of land in Sierra Vista, near Fort Huachuca Arizona. Fort Huachuca, a U.S. Army post, is the community's major employer and primary economic driving force with 6,500 active soldiers, 7,400 family members, and 5,000 civilian employees. The area of Sierra Vista is also conveniently located within five miles of the Sierra Vista Municipal Airport, Fort Huachuca Museum and the Mall at Sierra Vista – which features 360,000 square feet of retail space, restaurants and a movie theater.
"This is a property with a lot of versatility. There is opportunity to develop and truly customize the space to create the experience that the new owner desires. The Buyer will likely add a restaurant and bar to the hotel. These new additions will definitely create an interesting experience and additional ambiance for the under-served market that Sierra Vista is," said Luis Garino.
Sierra Suites provides exclusive accommodations and amenities for guests that include free Wi-Fi, a 24-hour fitness center, outdoor swimming pool, hot tub, furnished terraces, and 4,000 square feet of meeting rooms and event space.
Sierra Suites is located at 391 E. Fry Boulevard in Sierra Vista, Arizona. Since its original construction in 1985, Sierra Suites was renovated in 2018 to include an updated roof, plumbing and AC units. It offers a one-of-a-kind stay, including Saltillo tiled floors, intimate dining areas with rustic charm, fountain anchored courtyards and picturesque views of the mountains.