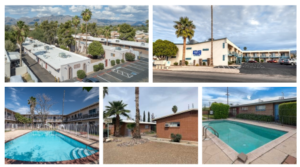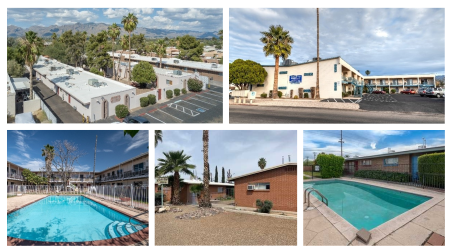 TUCSON, Ariz., – Marcus & Millichap (NYSE: MMI), a leading commercial real estate investment services firm with offices throughout the United States and Canada, has announced the sale of five apartment properties: Townhouse East (42-unit), Swan Crest (31-unit), Santa Fe Casitas (13-unit), Cielo Azul (12-unit), and Alta Vista (8-unit) all located in Tucson, Arizona. According to Ryan Sarbinoff, regional manager of the firm's Tucson office, the total sales volume for the assets was $5,200,000.
James K. Crawley, investment specialist and Hamid Panahi, first vice president investments in Marcus & Millichap's Tucson office, represented each property on behalf of both the sellers and buyers, all private investors.
Townhouse East is located at 3601 East 2nd Street. "The seller had undergone interior repositioning efforts for the community leading to rent revenue gains and strong operational momentum," said Crawley. Panahi added, "The buyer looks to build on the seller's efforts by overhauling programmatic interior and exterior enhancements due to its prominent location in the Miramonte neighborhood."
Swan Crest is located at 1060 North Swan Road. Crawley stated, "The seller enjoyed 20-years of ownership of Swan Crest but was looking to utilize her equity on opportunities closer to home." Panahi followed up, "The buyer will expand their expansive footprint in the market of Tucson with strong value-added opportunity through interior and exterior enhancements yielding corresponding rent premiums."
Santa Fe Casitas is located at 1435-1445 East Fort Lowell Road. "The seller implemented an overhaul of capital improvements to Santa Fe Casitas with rent premiums averaging over $350 per unit," said Panahi. "The buyer will look to expand on the proven concept within the community and enjoy their aggressive expansion within the Tucson multifamily market," added Crawley.
Cielo Azul and Alta Vista are located at 3701 East Fairmount Street and 3021 East Alta Vista Street, respectively. "Each seller had enjoyed stability at their respective assets for over 10 years but decided to take advantage of strong multifamily demand in the market," stated Crawley. "Both assets mark the first entry into the market for Well Empowered Health who will begin to reposition the assets to the business model they have implemented in the Southeastern Coastal Markets."
For more information, Panahi can be reached at 520.719.6511 and Crawley is at 520.719.6512.
To learn more, see RED Comps #6853, #6952, #6991, #6934 and #6999.