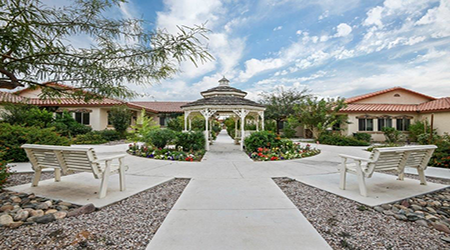 TUCSON, Ariz., – Marcus & Millichap (NYSE: MMI), a leading commercial real estate brokerage firm specializing in investment sales, financing, research and advisory services, announced today the sale of Carlton Village Senior Care Community, an 80-bed assisted living community built in 2018 in Tucson, Arizona. According to Ryan Sarbinoff, regional manager of the firm's Tucson office, the asset sold for $5,600,000 ($70,000 per bed).
Alex Snyder and Hamid Panahi, Senior Housing investment specialists in Marcus & Millichap's Tucson office, had the exclusive listing on behalf of the seller, a seniors housing developer. "The developer's foresight of evolving resident preferences among the high-acuity segment of assisted living led to the innovate creation of Carlton Village" noted Snyder.
The buyer, a Tucson-based assisted living owner/operator, was also procured by Snyder and Panahi. "Northwest Tucson's burgeoning 75-plus population will benefit by having an experienced regional operator expand their care offerings to serve new areas of Tucson," said Panahi.
Located at 321 West Limberlost Drive, this community combines the scale of a large assisted living operation with the communal setting of high-acuity care homes, creating a quasi-campus of eight 10-bed homes. A similar trend is emerging throughout the country and will only continue as a result of the Coronavirus pandemic. "Although the demographics indicate a wave of future residents, communities need to constantly innovate to meet evolving resident preferences, prioritize healthcare, and restore confidence that the safest place for Seniors in the face of viral outbreaks, be it the current pandemic, annual flu seasons, or future contagions, is in a seniors housing community" Snyder explained.
Communities like Carlton Village have reinvigorated the Senior Care investment community as investors seek out ways to alleviate viral spread through investments in prop-tech, building restructuring, or different community layouts to accommodate for social distancing.