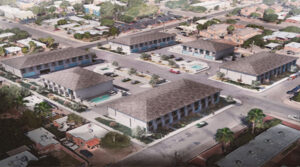 TUCSON, Ariz., November 3, 2022 – Marcus & Millichap (NYSE: MMI), a leading commercial real estate brokerage firm specializing in investment sales, financing, research and advisory services, announced the sale of The Zone, a 26-unit  / 112 bed student housing apartment property located in Tucson. The asset sold for $13,800,000 ($531,000 per unit / $123,000 per bed).
"The Zone is a build-to-rent property characterized by its unique architectural design and distinctive, condominium-quality finishes," said Hamid Panahi, Senior Vice President of Institutional Property Advisors (IPA), a division of Marcus & Millichap.
"The scarcity of developable land near the University of Arizona provides shelter from future multifamily supply and increases their long-term investment appeal," added Clint Wadlund, IPA Senior Vice President.
Panahi, Clint Wadlund and Art Wadlund in Marcus & Millichap's Tucson office, had the exclusive listing to market the property on behalf of the seller, Brad Management, and procured the buyer, Texas Capital Partners.
The Zone is located at 1330 East Drachman Street in Tucson, Arizona.
For more information, Wadlunds can be reached at 520.615.1100 and Panahi can be contacted at 520.719.6511.
To learn more, see RED Comp #10269.
PHOTO: The Zone, 1330 E Drachman, Tucson, Courtesy of Marcus & Millichap.