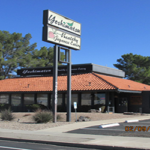 Mariscos Chihuahua Restaurant (Jesus A. Mendoza & Jesus G Garcia Valle, principals) with three locations in Tucson, closed its Grant Road restaurant 8 months ago due to Grant Road widening. The partners have recently purchased the restaurant at 2660 N Campbell Avenue in Tucson for $1.06 million ($264 PSF).
The 4,013-square-foot free standing building was sold by the current owner/occupant, Yoshimatsu Healthy Japanese Eatery (Yoshimi Tashima, manager) that will now be leasing space across the street.
The property was built in 1976 on a 23,416-square-foot lot at the southeast corner of Campbell and Mitchell, one block south of Campbell Plaza.
Before there was a Mariscos Chihuahua, there was only Mariscos.  In 1971 a small stand opened in Nogales, Mexico selling Mariscos (Seafood).  The stand opened next to a well-known fruit stand "Fruteria Chihuahua".  People from all over Nogales would shop at this famous fruit stand and soon started buying their ceviche, cocktails, and other Mariscos at the stand next door.  When the word started to spread about this little Mariscos stand and its amazing recipes, people would refer to it as "the Mariscos next to the Chihuahua", and that is where Mariscos Chihuahua came to be.  Once the stand grew into a full size restaurant the name Mariscos Chihuahua followed.  As the founding family grew, so did the famous recipes.  When part of the family moved to Tucson and Phoenix they found a market for their delicious Mariscos. Decades later we find Mariscos in Phoenix, Tucson and Nogales, AZ.  The restaurants have now been passed down from generation to generation and we hope to keep this tradition going.
Mariscos Chihuahua plans to open in its new location by mid-Summer.
Rick Borane with Volk Company handled the transaction representing both buyer and seller and represented Yoshimatsu in its new lease relocation.
For more information, Borane should be reached at 520.321.3200.
To learn more, see RED Comp #3645.