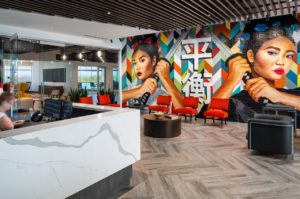 PHOENIX, ARIZ.  – McCarthy Nordburg, a woman-owned leading architectural interior design firm, recently added two law firms, the new headquarters for a popular restaurant brand and headquarters for an education services company to its resumé of work across the Valley.
Design work by the locally-owned and award-winning firm includes the law office of Frazer, Ryan, Goldberg & Arnold LLP; the law office of Engelman Berger (both in Phoenix); the new P.F. Chang's China Bistro headquarters in Scottsdale; and Zovio (previously Bridgepoint Education) in Chandler.
"Our vision for each client is to create a design that reflects their business, brand and culture. For Zovio, their new headquarters looks less like a traditional office and more like an exciting place to work and socialize," said David A. Hobart, Jr., Principal and Director of Design, McCarthy Nordburg. "Law firms today are trending toward updating their aesthetics to better reflect their practice and culture."
P.F. Chang's China Bistro
McCarthy Nordburg partnered with PF Chang's to translate the brand and culture into a built environment for the new headquarters. The concept focused on the methodology of celebrating, life, family and food.
Initial requirements included a new corporate headquarters with a test kitchen. P.F. Chang's way of working had grown to be more collaborative and technologically interactive. The office celebrates the excitement and energy found in their restaurants by integrating design elements into their corporate headquarters such as Asian inspired murals.
The 55,000 SF offices are located in Scottsdale. Menemsha Solutions was the general contractor. Key subcontractors included Kraemer Engineering, Caruso Turley Scott, Interface Flooring, RFC Groups and SAVE Electronics.
"Life is about the little things – that feeling you get from discovering your new favorite food to embarking on your next adventure. By living our values every day, we create our vibe," said Paul Fleming, co-founder of P.F. Chang's.
Zovio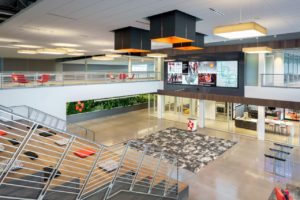 McCarthy Nordburg collaborated with Zovio on its new headquarters. Zovio is an educational technology services organization that offers an innovative approach to education by personalizing educational opportunities with smarter ways to learn.
With a commercial aesthetic woven into subtle elements of biophilic design, Zovio's new HQ is breathtaking. The first floor totals 80,000 SF and the mezzanine 50,000 SF. Tech meets creativity with DIRTT modular walls, acoustic panels and white noise systems that strategically eliminate sound overlap. The new headquarters features amenities such as an exterior patio, stadium seating for "all hands" town hall meetings, a health clinic, fitness center, full-service café and a coffee shop welcome center.
Zovio is located at 1811 E. Northrop Blvd., in Chandler. The project totals 130,000 SF. The general contractor was Stevens Leinweber and key subcontractors included Energy Design Systems, Caruso Turley Scott, Acoustical Consulting Services and GMBI.
Engelman Berger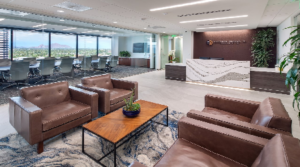 Engelman Berger chose McCarthy Nordburg as its design partner for the third time on a fast-tracked relocation of the firm's office. The client desired a timeless, modern design while paying homage to the firm's 20-year history. The second-generation renovation included maintaining portions of the existing layout while incorporating new modern design elements.
Located at 2800 N. Central Ave., Suite 1200, in Phoenix, the new offices totaled 15,500 SF. Stevens Leinweber was the general contractor and notable subcontractors were Peterson Engineering and Transact Commercial Interiors.
Frazer Ryan Goldberg & Arnold LLP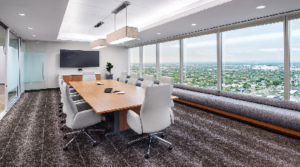 The law firm selected McCarthy Nordburg as the design partner for its new offices on the 18th floor of an iconic high-rise in Central Phoenix. The new offices boast panoramic
views, sliding glass walls, LED lighting, warm and inviting interior finishes and a variety of meeting and gathering spaces.
The result is a distinctive space that pays homage to the firm's Arizona roots while providing a highly functional space that supports the work of their multi-generational practice.
Located at 1850 N. Central Ave., in Phoenix, the space totaled 20,000 SF. Jokake Construction was the general contractor and key subcontractors included Peterson Engineering, Caruso Turley Scott, Goodman's Interior Structures and Corporate Interior Systems.