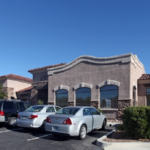 Two medical condos sold recently in the northwest submarket and a third in northeast Tucson.
NORTHWEST SUBMARKET
JK Pain Consultants of Tucson (Samir Patel, D.O) bought a 2,287-square-foot office condominium at 12480 N. Rancho Vistoso Boulevard, Suite 180 in Oro Valley, AZ from Oro Vistoso, LLC of Tucson (Kennth Fenster) for $450,000 ($197 PSF). The property was constructed in 2005.
Dr. Patel is a pain physician who specializes in the interventional treatment of chronic pain. He purchased the office to owner occupy. Dr. Patel completed his pain medicine fellowship at the University of Florida in 2008 and is board certified in both Anesthesiology and Pain Medicine by the American Board of Anesthesiology.
Ron Zimmerman, Industrial Specialist with Cushman & Wakefield | PICOR, represented both parties in this transaction.
Redwing Investments, LLC of Tucson (Charles Cardinal, manager) bought a 1,867-squar-foot office condo at 6700 N Oracle Rd, Suites 322 & 323 in Tucson for $252,000 ($135 PSF). The building was constructed in 1985 as a portion of the 6700 Oracle Road Professional Center.
The seller was Hard Rock Investments, LLC of Tucson (Randy Jumper, manager).
NORTHEAST SUBMARKET
In an unrelated transaction, Dr. Adam Pershing, DDS, purchased a 1,844-square-foot dental office at 2300 N Craycroft Road, Suite 4, in Tucson for $390,000 ($211 PSF). The property was built in 1985 and is brick construction in this medical / dental complex Craycroft Professionals, located at Grant and Craycroft.
The seller was Adams Suite 4, LLC of Tucson (Howard L Adams, manager).
Zimmerman can be contacted at (520) 248-0427.