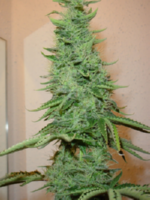 In real estate we all know the phrase, location, location, location; the equivalent in the medical marijuana field is CHAA, CHAA, CHAA. When Arizona voters approved Prop. 203 in 2010 legalizing medical marijuana dispensaries at the state level, Arizona Department of Health Services rules had already divided Arizona into 126 areas called Community Health Analysis Areas (CHAA) that were originally established to track cancer occurrences.
The rules limit the number of Arizona medical marijuana dispensaries in a CHAA to ONE! The goal of ADHS Director Will Humble is to disperse the current 97 dispensary applications throughout Arizona to minimize the number of patients who will be able to grow their own because the patient does not live within 25 miles of a dispensary.
This article has been archived, please login for access or subscribe now for a free trial.[mepr-show rules="58038"]As the first medical marijuana dispensary in Oro Valley opens today, Catalina Hills Botanical Care, at 12152 N Rancho Vistoso Blvd in Oro Valley, five other applications from the Tucson area were received by the state's deadline of June 7, 2013.
A Department of Health spokesperson told us there were 49 applications received during the final week before June 7th. For our region, in these last day applications were also Ajo, Catalina, Tanque Verde, Arivaca, Douglas and Benson CHAAs received by the state.
Nature Med, with a dispensary in Glendale, AZ opened since December, applied for another store at 5390 West Ina Road in Marana. When the 5,440 sq. ft. building at 6205 N Travel Center Drive, in the Orange Grove / I-10 Plaza, in Marana sold for $710,000 ($130 PSF) it was on the market for only one week. A quick sale due to the CHAA.
Paul Hooker and Pet Welchert of Cushman & Wakefield / Picor Commercial Real Estate represented the seller in the transaction.
Currently, Marana has designated two dispensaries within the town limits, although there are three CHAA that touch Marana. The number permitted shall be restricted to two and increased by one for each Marana population increase of 50,000 over and above the official census figure for Marana that was approximately 35,000 in 2010.
Title 8 in Marana's Land Development Code requires dispensaries to obtain a Conditional Use Permit in order meet state requirements for 50% on-site cultivation and 50% dispensary in the building. Both properties in Marana are in industrial zoned areas, have received their conditional use permits and submitted applications for state certification.
Pursuant to Title 8, dispensaries must be farther than 2,000 feet from another dispensary, 2,000 feet from a residential substance abuse or treatment facility, 1,000 feet from any type of school or educational facility that caters to children including 1,000 feet from a childcare center, 1,000 feet from a public library or public park, 1,000 feet from a church, and 1,000 feet from any facility devoted to family recreation or entertainment.
But the process is far from finished having met the June 7th deadline, there are numerous state requirements and inspections still to be passed. Arizona has already certified 27 dispensaries since December 2012 with 70 more applications. There has also been more than a dozen lawsuits filed against the state for taking too long to process applications before these regulations were established.
For the applicants that met the June 7 deadline, the next deadline for them will be August 7th, when the state approval to operate must be verified "in process" in order to meet all the other state requirements such as inventory control, tenant improvements, certificate of occupancy, etc.. Failure to meet this deadline would disqualify an applicant from further state certification at that location.
Statute prohibits the state from making dispensary ownerships public, but this restriction does not carry over to county or towns for such confidentiality. We have also chosen to respect their confidentiality in this article.[/mepr-show]
Please login for additional information available to subscribers..
[ismember]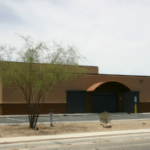 The 5,440 SF building on a 22,647 SF lot is of block construction at 6205 N Travel Center Drive in Marana (built 2005). Lot 18 Orange Grove I-10 Plaza bk 57 pg 68. APN #101-06-076. It has one grade level door and was vacant at time of sale, previously occupied by the seller, Thompson & Hurley, LLC dba Arizona Health. Market time reported by broker was 1 week with a 30-day all-cash close. [/ismember]