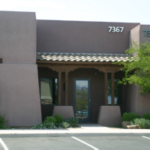 This article has been archived, please login for access or subscribe now for a free trial.
The following list of office sales completes our reporting of 2Q Tucson sales, and although all are not all medical spaces, most are. According to NAR, while the US healthcare system is bracing for the addition of 30 million previously uninsured patients,  there are a series of business transformations taking place having significant real estate effects.
EAST SUBMARKET
James and Vicki Sherman of Tucson sold their medical condo at 6562 E Carondelet Dr. Suite 205 in the San Rafael Medical Center on St Joseph Hospital campus to Jorge and Joanne Alvarez of Tucson for
[mepr-show rules="58038"]
$185,000 ($87.55 PSF). Dr. Sherman an OB/GYN occupied the space and Dr. Alvarez, DDS will also owner occupy it as a dental office. Financing was handled through and SBA loan.
NORTHEAST SUBMARKET
The office condo at 7367 E Tanque Verde Rd in Tucson sold for $294,000 ($140 PSF) to Richard Gage of Tucson. The office condo in Tanque Verde Place was vacant and will be occupied by buyer dba Financial Equities Strategies, a financial advisor. Mark Hays of Tierra Antigua Realty in Tucson represented the seller, Tucson and Green Valley Team Office, LLC of Tucson (Robert Eyer and Jeffrey Arnett). The buyer was represented by Larry Potter and Amy Star of Keller Williams Southern Arizona in Tucson.
Baggins sold two adjoining office buildings at 5375 and 5403-5407 East Pima Street in Tucson for $265,000 ($75 PSF). The buyer KLM Properties, LLC dba Collins Excavating intends to owner occupy the properties located northwest of Craycroft, between Beverley and Craycroft. Bob Bohacik of Arizona Sunbelt Business Advisors in Tucson represented the seller. Greg Boccardo of Hoot Gibson Realty in Tucson represented the buyer.
The medical office building at 4715 E Camp Lowell (built 2000) in the class-A Swan Corporate Center at Swan and Fort Lowell in Tucson sold for $1 million ($235 PSF). The seller Dr. Jeffrey Palen, a Gynecologist sold the property to Dr. Jeffrey Monash dba Tucson Bariatric. The seller and new owner are sharing the building as Tucson Bariatric Obstentrics and Gynecology temporarily.
CENTRAL SUBMARKET
Charter School, Presidio High School paid $750,000 ($92 PSF) for the vacant 8,187 sq. ft. office building at 1615 East Fort Lowell Road in Tucson, located northeast of Cherry and Fort Lowell. Presidio serves approximately 400 students K-12 and will use the building for administrative offices. Mark and Janine Irvin of Mark Irvin Commercial Real Estate Services handled the transaction.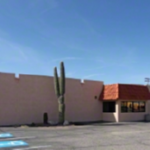 SOUTH TUCSON SUBMARKET
A single-story office building at 2716 S 6th Avenue, South Tucson sold for $425,000 ($49 PSF) to MHB Insurance Services of Tucson dba Medicare Health Benefits. The property was bank owned by an affiliate of Stancorp Mortgage of Hillsboro, OR when it sold. The 8,733 sq. ft. building (built 1982) is on a .57 acre lot. Tom Neiman of Cushman & Wakefield / Picor Commercial Real Estate Services represented the seller. Peter Canakacos of Long Realty represented the buyer.
NORTHWEST SUBMARKET
Dr. Mary Gharagozloo, DDS through an affiliate bought the dental office jointly shared with Dr. Todd Southall, DDS at 1840 E Innovation Park Drive in Oro Valley for $200,000 ($129 PSF). Southall was the seller of the 1,550 sq. ft. dental office in Innovation Corporate Center, a PUD on a 3,696 sq. ft. lot that Southall purchased in 2009 for $146,250.
Dr. Alvarez cam be reached at (520) 722-1655. Mark Hays is at (520) 544-2335. Larry Potter and Amy Star and be contacted at (520) 615-8400. Bob Bohacik is at (520) 577-1212. Greg Boccardo can be reached at (520) 955-0777. To reach Dr. Jeffrey Monash call (520)319-6000. Mark and Janine Irvin should be contacted at (520) 620-1833. Tom Neiman with Picor is at (520) 546-2728 while Peter Canakacos is at (520) 299-2201.  Dr. Mary Gharagozloo & Dr. Todd Southall should be reached at (520) 505-4422.
[/mepr-show]