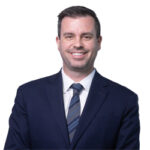 Mark Haslip, Vice President at Menlo Group, has achieved the SIOR designation from the Society of Industrial and Office REALTORS®.
Tempe, AZ–Menlo Group Commercial Real Estate is pleased to announce that Mark Haslip, MBA, CCIM, SIOR, has earned the SIOR designation from the Society of Industrial and Office REALTORS®. The designation is awarded to a select group of commercial real estate professionals with strong transactional histories and patterns of ethical behavior.
"I am excited to join this society of incredible professionals and learn from their examples," Haslip said. "I've watched my peers benefit from their SIOR memberships, and I knew I wanted to be a part of it."
Haslip is the sixth of Menlo Group's nine advisors to earn the SIOR designation. The organization includes only 3,700 members worldwide. To qualify, designees completed coursework, submitted their transactional history, and received letters of recommendation from current SIOR members.
The SIOR designation isn't Haslip's only achievement. In 2019, he also earned the Certified Commercial Investment Member designation from the CCIM Institute. All but one of Menlo Group's nine advisors currently hold the CCIM designation, signifying that they are among the top of their field.
"At Menlo Group, one of our core values is Success Minded, and our advisors demonstrate this core value in their pursuit of these top commercial real estate designations," said Menlo Group Chief Operating Officer Kody Miller. "We are excited to see Mark take this step to expand his network and better serve our clients."
Haslip joined Menlo Group in 2017 after a 13-year career as a field sales consultant for Henry Schein Dental, a Fortune 500 dental supply and equipment company. As a commercial real estate advisor, he continues to foster relationships with dentists and doctors as he helps them lease and buy property.
"As the Valley continues to grow, so does the need for healthcare providers," Haslip said. "I enjoy getting to work with so many wonderful business owners and help them reach their goals of providing quality patient care."