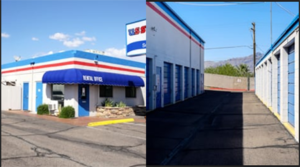 TUCSON, ARIZONA – Merit Hill Capital, LP of Brooklyn, NY (Cole Jackson, vice-president) purchased two U.S. Storage Centers in Tucson for an aggregate of 940 units for $5.6 million ($5,957 per unit).
Westport Self-Storage of Irvine, California was the seller of both 4115 E Speedway Blvd. for $2.59 million, 462-unit storage facility, and 2825 N First Avenue for $3.01 million for the 478-unit facility.
Merit Hill Capital is a real estate investment firm focused on acquiring and managing a portfolio of self-storage facilities across the United States.  The firm was founded in 2016 by Liz Raun Schlesinger and has been capitalized with a $300 million equity commitment from a private investment firm with approximately $29 billion in capital under management with offices in New York and London.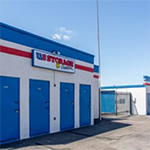 The company focuses on opportunities with value-add, turnaround, and/or expansion potential components.
Merit Hill currently has a team of six employees with over 25 years of combined experience working together in the self-storage sector and currently has offices in Brooklyn, New York and Dallas, Texas. Our team previously worked together to build the eighth largest self-storage portfolio in the country. The firm is focused primarily on making one-off and small portfolio acquisitions with value-add or turnaround components in markets that have at least 25,000 residents with population growth.  Merit Hill engages third party property managers, including the two largest third party self-storage property managers in the industry, Extra Space Storage and CubeSmart, to operate its properties.
There were no brokers involved in the Tucson transactions. For additional information, Jackson can be reached at 929.283.6785.
To learn more, see RED Comps #5716 and #5717.