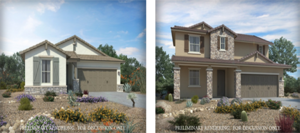 Meritage Homes is holding a pre-opening event at La Estancia this weekend that includes an exclusive opportunity to secure one of the first homesites in La Estancia. First phase pricing is from the $170s.
This exclusive opportunity to purchase a new home at La Estancia at pre-opening prices is for this weekend only, as the finishing touches are being put on model homes for the community grand opening. Meritage announced there will be a limited number of pre-opening home purchase opportunities, available beginning April 16, 2016. The Meritage sales team will be onsite at La Estancia for two days only, April 16th and 17th, to meet potential homebuyers interested in learning more about the community. There will also be mortgage representatives on hand to discuss home mortgage programs and answer any questions about obtaining a home loan. They can even help with credit repair to put clients in a better situation to purchase a home at La Estancia in the future.
Only a limited number of homesites will be available in the first release. Once sold, it is anticipated home prices to increase for future releases. Don't miss your chance to get in on the ground floor at La Estancia, when pricing is at its lowest.
For more information, call Meritage at 877-552-4028 for details on how you can secure a priority spot in this first phase.
And, make plans to join Meritage onsite for its first phase pre-opening release event, meet the team and see for yourself this exciting new Masterplan community first-hand.
What:              First Phase Release Event at La Estancia
When:             April 16 and 17, 2016, 10:00AM – 3:00PM
Where:            La Estancia Park – 6733 E. Via Boca Grande, Tucson, AZ 85737 (Between Kolb and Wilmot off I-10)