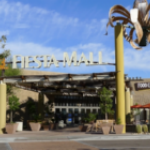 Macy's Inc. announced Wednesday that it was cutting jobs and closing stores as part of a reorganization to sustain its profitability. The announcement came on the heels of a strong holiday shopping season for the department store chain. Macy's said Wednesday that it will cut 2,500 jobs and reassign or transfer other workers. It will also add jobs in other parts of the company, leaving its workforce level at about 175,000. The Cincinnati-based company plans to close five stores and open eight others, leaving it with 844 stores nationwide once the changes are complete. Macy's says the moves will save it $100 million per year and forecast a 2014 profit above Wall Street's forecasts.
Fiesta Mall Macy's store #39 in Mesa is to close as part of a nationwide cost-cutting effort. Final clearance sales will begin Monday and run for between 10 and 11 weeks at the 159,000-square-foot Fiesta Mall store, which opened in 1979 at Alma School Road and Southern Avenue and is one of five Macy's locations closing around the country.
The four other Macy's stores that are closing are:
- Metcalf South Shopping Center, Overland Park, Kan. (216,000 square feet; opened in 1967; 88 associates);
- Jamestown Mall, Florissant, Mo. (200,000 square feet; opened in 1994; 88 associates);
- Medley Centre, Irondequoit, N.Y. (129,000 square feet; opened in 1990; 96 associates);
- Fashion Place Mall, Murray, Utah (26,000 square feet; opened in 1988; 42 associates).
Since the announcement, shares have gained by $4.30 to close at $55.80 on Thursday.