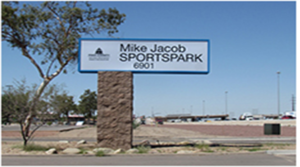 PIMA COUNTY, Arizona — Pima County's Mike Jacob Sportspark, for years a heavily-used site for softball, volleyball and a host of other sports on the northwest side, has re-opened following a nine-month closure.
The park, located at 6901 North Casa Grande Highway (near I-10 and Ina Road) and overseen by Pima County Natural Resources, Parks and Recreation, closed on Dec. 31, 2017, for its first major reconstruction improvements in 25 years. Since a portion of the facility's parking lot was needed for the Arizona Department of Transportation's Ina Road interchange project, County officials used right-of-way acquisition funding, contingency general funds as well as some remaining bond funds to make safety and aesthetic improvements to the park.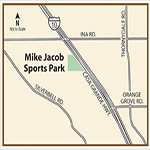 A certificate of occupancy was issued for the site on Sept. 14. The total project cost was $2.3 million.
"It is exciting to see the Mike Jacob Sportspark re-open," said District 1 Supervisor, Ally Miller. "This multi-use park has been a fixture in northwest Pima County for sports teams and is a great place for families to gather for outdoor activities.  While all residents in the County will benefit from the re-opening, it is gratifying to see the investment for the residents of District 1."
NRPR staff worked in concert with the county's Project Management Office and contractor Sellers & Sons on the improvements, which included:
ADA-compliant restrooms and ticket window;
Redesigned lighted interior pathways with new playground, trees and turf-grass central area;
Redesigned dugouts and fencing on each softball field;
Renovated concession stands with new carpet, paint and interior finishes;
New kitchen equipment; and
New irrigation system;
Interest in the reopening has been high, with 71 sand volleyball teams, 64 softball teams, and eight flag football teams already playing.
To schedule tournament play at Mike Jacob Sportspark, contact Martina Gonzales, NRPR recreation program manager, at Martina.Gonzales@pima.gov. To schedule league play, visit https://sportsparktucson.com/.