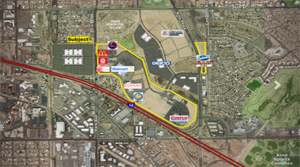 TUCSON, ARIZONA -- Mister Car Wash purchased 1.49 aces of vacant land at Tucson Marketplace at the Bridges located at 2975 South Kino Pkwy in Tucson for $1.4 million ($21.57 PSF). Tucson-based Mister Car Wash continues to expand, now with 266 car washes it operates in 21 states. Prior to this year the company had grown through acquisitions and recently opened two new locations built and developed by and for Mister Car Wash in Iowa and Utah.
It is this new product being developed by Mister Car Wash at the Bridges on a pad to the north of Discount Tire.  Mister Car Wash will be located on the northern most pad with KFC and Dutch Bro's (in escrow) to the south near Culver's and Discount Tire, as shown on site plan below.
Tucson Marketplace at the Bridges is ±114 acres with ±1 million square feet of proposed shops, pads, entertainment and anchors available for Sale, Ground Lease or Built-To-Suite in the dense infill section of South Tucson
The Marketplace at the Bridges feature one (1) mile of frontage along Interstate 10, two (2) Interstate 10 interchanges at the east and west ends of the project. It is part of a master planned community with KB Homes and the University of Arizona Bioscience Research Park, within 2.5 miles from the University of Arizona and two (2) miles south of downtown Tucson and three (3) miles from the Tucson International Airport.
CWPS, the buying entity for Mister Car Wash, was represented by Aaron LaPrise, Retail Specialist with Cushman & Wakefield | Picor.
The seller, Fullerton Tucson Kino Parkway, LLC, of Toronto, Ontario, Canada, was represented by Chad Russell and Randy Titzck of Land Advisors Organization in Phoenix.
For more information, LaPrise can be reached at 520.546.2770 and Russell and Titzck can be contacted at 480.483.8100.
To learn more, see RED Comp #6652.