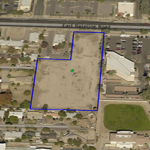 PHOENIX, AZ – ORION Investment Real Estate recently negotiated the land site located at 123 East Baseline Road in Phoenix for $1.03 million ($8.75/SF). Situated east of the southeast corner of Baseline Road and Central Avenue, the vacant land totals ±2.70 acres and is zoned C-2. It is located adjacent to an Arby's. and surrounded by other retailers and fast food restaurants, such as Sonic, KFC, Church's Chicken, and Circle K.
Nick Miner, CCIM, Senior Vice President at ORION Investment Real Estate, represented the Buyer, Mountain Park Health Center, in this transaction. Miner said, "This acquisition provides expansion for their current location."
CEO, John Swagert, MD, of Mountain Park Health Center, acclaimed, "Thanks, Nick. And thanks to everyone for helping us get this done. The project will (eventually) help us bring a lot more health care to people who need us in South Phoenix."
Josh Landers from Commercial 33 represented the Seller.