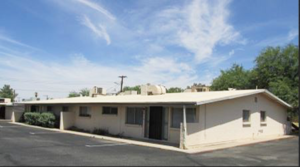 TUCSON, Arizona – Gould Family Properties VIII, LLC of Tucson (Wayne & Amy Gould managers) purchased 69-units in five separate properties for a combined total of $3.724 Million ($54,000 per unit). The sellers were various limited liability companies managed by James and Joan Johnston of Tucson.
The properties included 1620-1650 E Blacklidge Dr in Tucson with 24-units, 3801-3829 N Country Club Road with 16-units,1802-1820 N Fomeus Ave. with 10-units, 3220 E Terra Alta Blvd. with 10-units, and 3501 N Country Club with 9-units.
The portfolio was 95% occupied at time of sale.
Allen Mendelsberg with Cushman & Wakefield | Picor handled the transaction for buyer and seller.
For more information, Mendelsberg should be contacted at 520.546.2721.
To learn more, see RED Comp #6385.