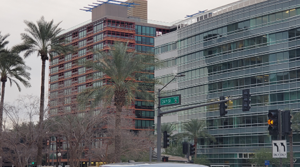 PHOENIX, ARIZONA – Liquid Mobile IV, a clinical lead physician, nurse practitioner, and nurse organization delivering 24/7 wellness-based IV hydration and nutrition to the customer's front door, signed a 2-term lease at the Optima Biltmore Towers Condominium first-floor commercial space in the highly sought-after Camelback Corridor in Phoenix.
NAI Horizon Associate Lori Kahn represented the tenant, Liquid Mobile IV, which is  excited to bring its services and be part of the Phoenix community. The 2,033 SF space at 4808 N. 24th St., will be home to more than 20 nurses and clinicians.
"We are thrilled to help Liquid Mobile IV with its national expansion, and Phoenix being the company's first Southwest location," Kahn said. "The Optima Biltmore's office space is the perfect location in the Phoenix market. The building's central location and proximity to major freeways provide nurses easy access to clients throughout the Valley."
Liquid Mobile IV offers on-demand nutrition, hydration, and COVID test. Nurses come to a home or business, providing convenience and limiting the risk of exposure to other viruses and illnesses that might occur in a clinical setting.
Liquid Mobile IV offers customers the ability to avoid travel time, traffic, long lines or waiting rooms. Only nurses, nurse practitioners and physicians perform the IVs and administer nutrients formulated by FDA authorized pharmacies.
Liquid Mobile IV products are designed to make a positive impact on the routine wellness of a customer's day-to-day life, in addition to assisting with more acute clinical health situations such as cold, flu, nausea, allergies and dehydration that require immediate attention.
Because of its direct administration method, Liquid Mobile IV products tend to work faster and more efficiently than other methods and deliver up to 100% absorption of the needed therapy.
The landlord is Silver Fern, LLC, of Glencoe, Illinois. The transaction was facilitated through a referral from NAI DESCO in St. Louis, Missouri.