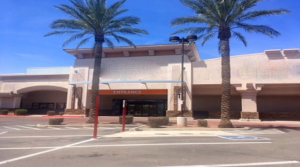 PHOENIX, ARIZONA – NAI Horizon represented the landlord and the tenant in negotiating a long-term lease for a new Planet Fitness at Vista Del Oro in Gilbert, Arizona.
The NAI Horizon retail properties team of Senior Vice Presidents Shelby Tworek, Chris Gerow and Gabe Ortega and Associate Patrick Anthon represented the tenant, United PF TOM LLC of Austin, Texas, in the transaction totaling $2.55 million.
NAI Horizon Senior Associate Horth Hong represented the landlord, Val Vista Queen Creek LLC of Los Angeles.
The site was a former kid's entertainment complex and prior to that it was a grocery store," Tware-footorek said. "We were able to come to terms and demise a 50,000-sqaure-foot box so that the owner could accommodate two tenants. The area and demographics were ideal for a Planet Fitness model, meeting some of the demands of the local neighborhood."
Planet Fitness will occupy 24,287-sqaure-feet at Vista Del Oro, 4874 S. Val Vista Drive in Gilbert. Vista Del Oro is a 102,755-square-foot shopping center at the SWC of Val Vista Drive and Queen Creek Road. It's a half mile south of the Loop 202 Santan Freeway.
Tenants at Vista Del Oro include G.S. Consulting Group, GSC Therapy, Leslie's Pool Supply, Payton's Place Bar and Totspot Preschool.
In 2018 NAI Horizon negotiated leases totaling more than $23 million for Planet Fitness locations across the Valley.